Love Fiercely.
Live Boldly.
Stella Guan is the Co-Founder & CEO of Path Unbound, a design school and Founder of Bezier Home, a multi-functional, post modern statement furniture brand. 
Love Fiercely.
Live Boldly.
Stella Guan is an award-winning designer, entrepreneur, design educator and speaker. She is the Founder & CEO of Path Unbound, a company democratizing creative education, and Bezier Home, a multi-functional, mid-century modern statement furniture brand. Originally from the big, rooster-shaped country with 1.4 billion people, she considers herself a blunt New Yorker and a "non-laidback" Angeleno.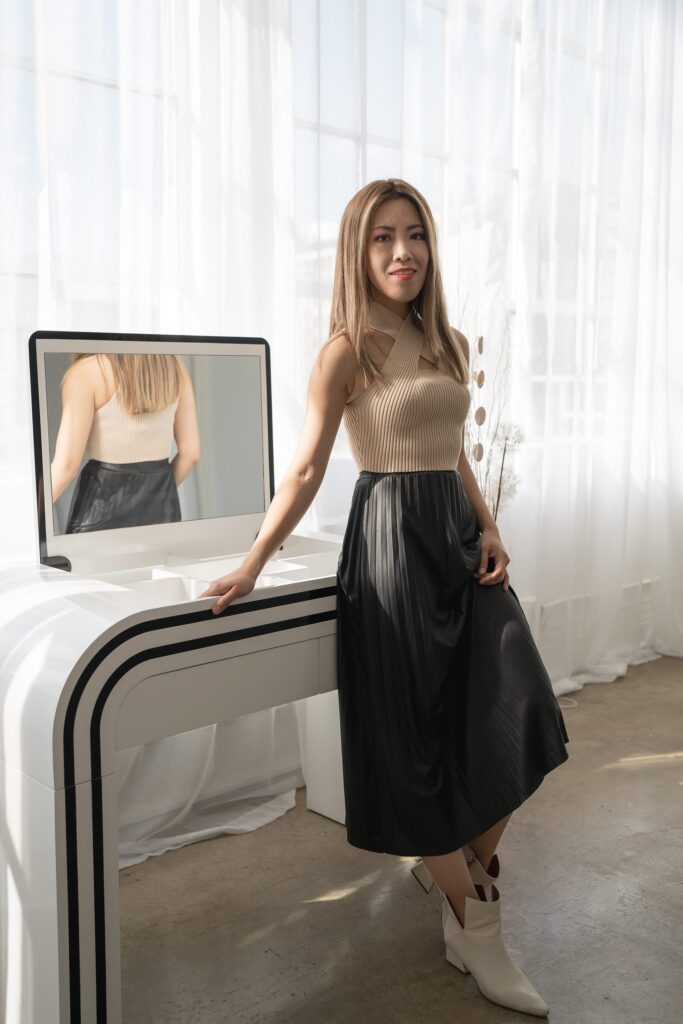 Following a decade-long corporate career at global companies, Stella took on an entrepreneurial path and founded (and later co-founded) Path Unbound, a design school that help students start a successful career in design, and Bezier Home, a multi-functional, post modern statement furniture brand.
Stella's design work has been recognized internationally by major design awards, some of which have also invited her to serve as a judge.
A passionate design educator, Stella is an Adjunct Professor of Design at several universities and education institutions. She is often invited as a speaker at design conferences.
She regularly shares her experience and thoughts about design, career, money matters, family & relationships on Medium.com and here at the blog.
Stella is the C0-Founder and CEO of Path Unbound, an UI/UX design school providing customized curriculum that teaches in-demand design skills.
Stella is the Founder and Designer of Bezier Home, a post modern furniture brand that designs multi-functional furniture. 
Stella is a passionate educator dedicated to sharing her professional and industry knowledge to the next generation of creative professionals. In addition to running her creative education company Path Unbound, she can be found lecturing as an Adjunct Professor at some of the world's best universities, such as Fashion Institute of Technology in New York City, City University of New York and as a Lead Instructor at global education institutions such as General Assembly.
Stella is a dynamic speaker. She has been invited to speak at creative and design industry conferences around the world. Some of the topics she speaks about include client relationship management, creative entrepreneurship, design education and design workflow optimization.
Stella was a truly exceptional design mentor. She was punctual with our meetings, personable and professional. I found it very easy to relate with and she even provided me with career advice to ensure my success. 
Stella is the best mentor a new designer can have! She's highly responsive, always gives feedback on time, and her feedback is helpful and actionable. 
Excellent service. Fast, functional, great looking site. I'm getting tons of compliments on it already!
Co-Founder of 1-800-DENTIST
Super amazing class, I really enjoyed it! I looked forward to all the projects and spent a lot of time on them because I thought they were so fun!
Professor Guan did an amazing job of teaching us this semester, especially during these times. She teaches very diligently and is very understanding about her students' situations and experiences. Whoever has her class next semester will be glad they get to learn under her guidance.
Cannot say enough great things about Stella. All feedback I've received has been extremely constructive, and the time taken in each class to answer any miscellaneous questions that I or my classmates have is invaluable. Stella is an incredible instructor and I would definitely recommend her to anyone considering pursuing graphic design as a career.
Have a work-related inquiry? Interested in booking Stella to speak? She'd love to hear from you and promise to respond as humanly fast as possible.